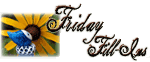 FRIDAY FILL-INS
1. For me _doing nothing at all____ is the opposite of creativity.
2. _The Last Lecture by Randy Pausch____ was the last excellent book I read.
3. I like fill-ins because _they make me think and I'm just a tad weird also____.
4. In nature I like looking at _flowers, trees, the river, just about everything except bugs____.
5. _At this point, I have No Idea -____ should win the US elections.
6. The last time I laughed with all my belly was _reading a joke at
Comedy Plus
____.
7. And as for the weekend, tonight I'm looking forward to _working online____, tomorrow my plans include _cleaning my house ____ and Sunday, I want to _spend some quality time with hubs____!